Migrants at Dieppe camp 'try to cross to UK every night'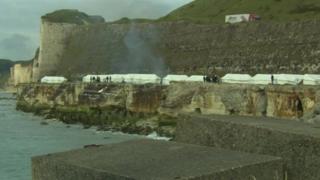 Migrants camped at Dieppe are trying to break into lorries and cars and run on to ferries to Newhaven "every single night", an MP says.
Maria Caulfield, Conservative MP for Lewes, said security at the French ferry terminal had been increased.
Daniel Barney, of Medicines Sans Frontieres (MSF), said a camp of up to 100 Albanians, mainly boys and men, were looking to work in the UK.
They were are trapped in a "precarious position" beneath the cliffs, he said.
Miss Caulfield, whose constituency includes the port of Newhaven, said: "These are economic migrants who are trying to get on to the ferry to get across to the UK.
"We are finding people using dinghies to cross to places like Hastings and Kent as the traditional port routes are becoming more difficult to access."
'Absolutely shocking conditions'
Mr Barney said MSF had provided 20 sturdy tents for those at the camps after their "flimsy shelters" were destroyed by bad weather.
He said those at the camp were given one hot meal each day, but there were no water points or toilets and there were increasing numbers of people with respiratory infections.
"People are stuck in un-liveable conditions that are absolutely shocking. We're increasing security so they are trapped and are willing to take greater risks to cross."