Channel fisherman's family 'praying he comes home'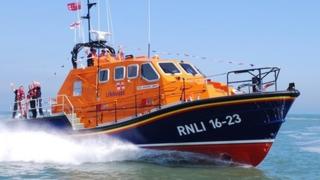 Relatives of a fisherman who is missing in the Channel say they are "all praying to God he comes home".
Darren Brown from Newhaven, East Sussex fell overboard in French waters on Thursday.
A search by lifeboats and a coastguard helicopter was called off over eight hours later.
Eastbourne lifeboat coxswain Mark Sawyer said fishing boats would continue looking but the chances of finding him were slim.
The RNLI had no more searches planned, he added.
Mr Sawyer said he believed the fisherman went overboard from a commercial fishing boat while trying to free an obstruction from a propeller.
"If they could find him and just bring him back to his family, that's what we're looking for at the moment," he said.
It is understood the vessel is registered in Newhaven and based at Shoreham.
Mr Brown's brother Mark said: "The family are all praying to God he comes home".
Another fisherman, Gary Colderwood, said: "There is no closure until the body is found. It is the families who suffer.
"It is very hard but it is the job we do. If you thought about the dangers you would not go to sea."
Extensive searches
The Maritime and Coastguard Agency (MCA) received a Mayday call from the vessel 30 miles south of Newhaven at 12:40 BST on Thursday.
Mr Sawyer said lifeboats carried out three extensive searches, helped by fishing boats and vessels using the busy shipping lane.
The French Coastguard also joined Thursday's search but the rescue operation was suspended at 21:00.
Sussex Police said the case was still being treated as a missing person.