Knife crime: Almost half of repeat offenders spared jail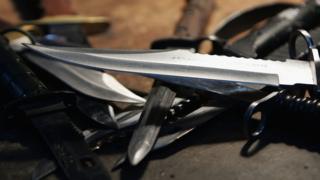 Almost half of repeat knife offenders were not immediately jailed, despite new legislation requiring judges to impose a prison sentence.
Some 55% of the 1,161 adults sentenced under the first eight months of the new law were given a custodial sentence.
A further 22% were given suspended sentences, figures reveal. An undisclosed percentage received community sentences.
The Ministry of Justice said it was "too early" to assess the law's impact.
Labour's West Midlands Police and Crime Commissioner David Jamieson said the figures raised questions for the government.
He said: "The government needs to deliver on its promise.
"The police do a good job in difficult circumstances tackling knife crime but the justice system and the government need to uphold their end of the bargain and jail those who commit a second offence."
Knife possession sentencing
55%
of adults were jailed immediately for a second offence
6 months
minimum sentence for second offence introduced in July 2015
1,661 adults convicted of second offence July 2015 - March 2016

132 aged 16 to 17 convicted
Getty Images
Under the new rules, which are part of the Criminal Justice and Courts Act, the government said adults convicted more than once of being in possession of a blade would face a minimum six-month prison sentence and a maximum of four years.
Young offenders, aged 16 and 17, were told they faced at least four months detention and training.
Official figures showed the average custodial sentence for repeat knife crime offenders in England and Wales was seven months.
There were 17,908 knife possession offences that resulted in either a caution or sentence in England and Wales in 2015-16, compared with 16,516 the year before.
It was a rate of 36 per 100,000 of the population.
The Metropolitan Police had the highest rate with 58 offences per 100,000 people while Surrey had the lowest, 16 per 100,000 people.
---
Analysis: Danny Shaw, BBC home affairs correspondent
Under the new rules, judges must impose the minimum sentence unless it would be "unjust to do so in all the circumstances".
The legislation was championed by the former backbench Conservative MP Nick de Bois and received overwhelming backing in the House of Commons in 2014.
Writing in the document containing the latest statistics, officials say: "It is possible some youths may not receive a custodial sentence.
"This is because a 4-month detention and training order is the minimum custodial sentence available to judges when sentencing youths in any circumstance and if the court applies a reduction in sentence for a guilty plea then a non-custodial sentence will result."
However, there is no explanation as to why 45% of adults convicted of repeat knife possession offences did not go to prison.
---
Overall, the latest figures on knife possession - for first-time offenders and repeat offenders - show that 4,663 offences were dealt with by the criminal justice system in the first three months of 2016, the highest number for four years.
Mark Castle, chief executive at charity Victim Support, said: "Alongside this rise in knife possession offences, we are also seeing a worrying rise in the number of knife crimes recorded by the police.
"Knife crimes shatter the lives of so many - particularly young people and their families. More must be done, by agencies and educators working in partnership, to educate people about the dangers of carrying weapons."
A Ministry of Justice spokeswoman said: "Decisions on sentencing in individual cases are for the courts. The two strike rule entered into law last July, so it is too early to properly assess its impact."