Fireworks restriction debate to be held after petition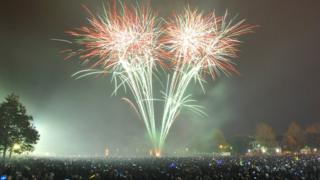 A debate over "random back garden fireworks" will be held by MPs later after a petition to restrict them gained more than 100,000 signatures.
The petition is calling for restrictions on when fireworks can be used to reduce stress and fear in people and animals.
It was started by Jill Cutsforth, from Beverley, East Yorkshire, and Julie Doorne, from Sleaford, Lincolnshire.
The debate, scheduled for 16:30 BST, will be streamed on parliamentlive.tv.
More on this and other local stories in Lincolnshire
Talking about the petition, which was started on 16 October, Ms Cutsforth said: "We're after a change in the law so that [the use of fireworks is] restricted to traditional dates such as Bonfire Night, New Year's Eve, Chinese New Year and Diwali."
She said the campaign to "end random back garden fireworks" was prompted after her pet dog became frightened by fireworks being let off.
"I ended up having him sedated with diazepam," she said.
Fellow campaigner Julie Doorne said: "When we started this, all we were hoping for was to make people more aware of the problems people have with fireworks.
"To actually get it to government, wow, makes my hair stand on end."
She said fireworks could affect people with conditions including Asperger's syndrome and autism, who are unable to prepare for random events.
"We are not the fun police, but by the same token someone's fun shouldn't affect other people's lives so dramatically," she said.
Current regulations limit home use fireworks to 120 decibels, but allow their use all year round, except between the hours of 23:00 and 07:00 when a curfew is enforced.
The Department for Business, Innovation and Skills said the majority of people used fireworks at "appropriate times of year and have a sensible and responsible attitude towards them".