M5 crash: Third man dies after crash on motorway in Gloucestershire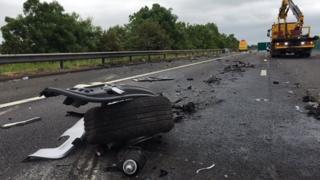 A third man has died in hospital following crashes involving several vehicles on the M5.
Four cars and a lorry were involved in two crashes which happened at 01:00 BST between J8 and J9 southbound on Thursday.
Two men from Gloucester - the driver, 24, and a passenger, 23, of a Mercedes car - died in the second crash.
Two other 23-year-old male passengers were taken to hospital, but one has since died of his injuries.
The other remains in a critical but stable condition.
The carriageway was shut for 11 hours between the two junctions.
Police said the first crash was between a Ford Mondeo and MG Rover, south of the M50 junction.
The male driver of the MG Rover left the scene of the collision before police arrived but officers have appealed for him to come forward.
The injured passengers in the Mercedes were taken to Queen Elizabeth Hospital in Birmingham and Southmead Hospital in Bristol.