Air ambulance plasma put to use days into pilot scheme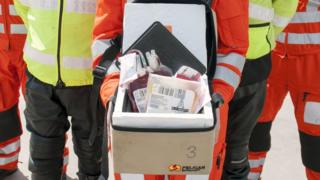 Blood plasma has been used on board an air ambulance just days after a pilot scheme to carry it was introduced.
The Great North Air Ambulance Service, which already carries out blood transfusions, said carrying plasma - which helps blood clots to form - will further improve chances of survival.
On Friday a motorcyclist was seriously injured in a crash with a car on the A591 near Kendal.
Air ambulance crew administered plasma and he was transported to hospital.
The service, which covers the North East, Cumbria and North Yorkshire, began carrying plasma on Tuesday.
Dr Rachel Hawes, a doctor on the air ambulance, said: "Blood on board has allowed us to greatly improve outcomes for our trauma patients.
"Yet scientific studies suggest that up to 30% of trauma patients with severe bleeding are no longer able to form blood clots normally by the time they arrive in the emergency department.
"This means ...they are in a condition known as coagulopathy - they haven't been able to produce enough of their own blood clots to keep up with the bleeding and so the bleeding spirals out of control.
"By giving a more balanced transfusion, using equal volumes of red blood cells and plasma, we hope to prevent this happening to our critically ill patients, ultimately helping to save their lives."