A-list academics: Swapping the limelight for the lectern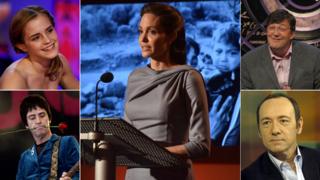 Angelina Jolie Pitt, who has nabbed a post as visiting professor at the London School of Economics, is the latest in a line of celebrities who have swapped the limelight for the lectern at English universities.
Jolie Pitt - a UN special envoy - will be teaching part of a new masters course run by the LSE's Centre for Women, Peace and Security.
So what's in these starry appointments for the universities and for the celebrities?
Emma Watson
Emma Watson swapped Gryffindor for Lady Margaret Hall (LMH) at Oxford when she became a visiting professor - alongside Sherlock actor Benedict Cumberbatch and nine other non-academics.
LMH principal Alan Rusbridger said the fact they were not academics was part of the reason they were selected. The three-year part-time positions would "enrich the cultural life of the college" because they would be able to give students an insight into different experiences, he said.
He got the idea from his own experience as a visiting fellow at Nuffield College, Oxford.
"Some of those dinners were eclectic affairs. Alongside the students and tutors there would be bishops, bankers, spies, journalists and economists."
Although the college obviously has a high number of academics in lecturing roles, Mr Rusbridger said the visiting professors "are people in public life we admire and bring varied and interesting insights and experience to the whole community - students, staff and tutors".
So, other than being convivial dinner party guests, what are these "admirable public people" expected to do?
"At a minimum we'd like them to drop in occasionally at college, eat with us and meet informally with a variety of the LMH community.
"It could be a conversation or debate, a performance, a lecture or seminar, a form of outreach—or something we haven't thought of."
Watson has a degree in English Literature from the Ivy League US university, Brown. Her first visit to LMH, a low-key unofficial affair to meet with the principal, was marred by a privacy row, after a student posted a sneakily-took photograph of the actress on Facebook.
Perhaps he's lucky she did not transfigure him.
Johnny Marr
Smiths guitarist Johnny Marr is a Visiting Professor of Music at the University of Salford - and also the recipient of an honorary degree.
Marr has a long association with the city - he and the rest of the Smiths were pictured outside the Salford Lads Club for a photo that appeared on the inner sleeve of the band's 1986 LP The Queen Is Dead.
The club, located in Ordsall, has since become a place of pilgrimage for Smiths fans.
Marr's inaugural lecture in 2008 was about "outsiders" in the music business.
Entitled Mavericks, Innovators and Building Your Own Ark - which sounds like a mixture of sociology, experiments and carpentry - Marr argued: "In an age of stifling conservatism, outsiders need to be cherished."
The talk praised Bob Marley, the Sex Pistols and Kurt Cobain who "built their own ark and sailed it ahead of the music industry".
Later that year, he helmed a series of workshops and seminars for students taking the BA Popular Music and Recording degree.
Marr had previously been on stage at the university's Maxwell Hall - at a gig with the Smiths in 1986.
His lecture was a little more sedate than the concert, when the speakers had to be tied down because of the excitement of the audience.
Brian May
Fellow guitarist Dr Brian May is a visiting researcher in astrophysics at Imperial College London.
His specialism is the reflection of light from interplanetary dust and the velocity of dust in the plane of the Solar System.
Unlike many visiting post holders, May is a proper academic. He studied physics and mathematics at Imperial College in the 1960s, and from 1970 to 1974 studied for a PhD.
Although another type of stardom drew him away in 1974 - when Queen started to have international success - May returned to academia in 2006 and his thesis was approved in September 2007 - 37 years after it commenced.
May's appointment as visiting researcher includes taking part in workshops, discussions and presentations.
In one case, his talk ended with an animation of the solar system accompanied by guitar music from his one of his own solo albums. Show off.
Kevin Spacey
Spacey took a one-year role as the Cameron Mackintosh Visiting Professor of Contemporary Theatre at St Catherine's (known as St Catz) College, Oxford.
The one-year post in 2008 required him to give lectures, workshops and seminars at the university.
The double Oscar-winner has appeared to court gravitas throughout his professional life - he is a CBE and a KBE, has an honorary doctorate, and set up a foundation which pays students' university fees and awards grants.
He was the artistic director of the Old Vic, one of England's oldest theatres, for 11 years.
On his appointment at Oxford, he said: "It really is an honour for me to follow such illustrious names and take up this role.
"The university is steeped in tradition and has a great heritage in the arts and I look forward to working with the students and staff."
Before his inaugural lecture, he was introduced by the Master of St. Catherine's as a "towering figure, a Goliath in the world of drama".
Spacey told the students: "I hope by the end of my tenure here, I will be worthy of the title of professor".
Previous visiting professors have included composer Stephen Sondheim, playwright Alan Ayckbourn, lyricist Sir Tim Rice and Star Trek actor Patrick Stewart.
Stephen Fry
Stephen Fry, a graduate of Queens College Cambridge where he studied English Literature, crossed the Oxbridge divide to become another holder (he was the 23rd) of the Cameron Mackintosh Visiting Professor of Contemporary Theatre at St Catherine's, Oxford.
His inaugural lecture, now available as a podcast, was called Put on Your Red Shoes: Performance and Destiny.
"I hope to help students devise comic and dramatic pieces, talk through rehearsal, writer-performing techniques and procedures, and give what benefit I might have to offer from over a quarter of a century of larking about on stage and screen," he said.