Police apology after burglars raid Brierley Hill firm twice in one night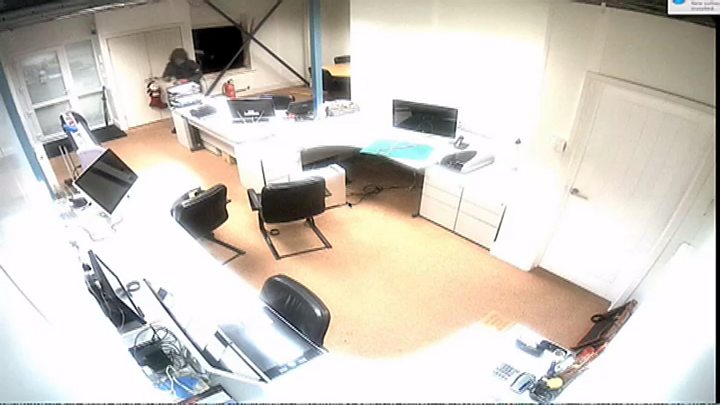 A business owner who says he watched on CCTV at home while his firm was burgled twice in one night, claims police told him they were "too busy" to come out.
Paul Smart said he watched raiders enter his firm, Doodah Creative Ltd in Brierley Hill, West Midlands, and twice called police.
A spokesman for the West Midlands force, said it was discussing "issues" with Mr Smart, following the burglary.
West Mercia Police, which covers the area where he lives, has apologised.
Mr Smart, of Chaddesley Corbett, Worcestershire, said computer equipment worth nearly £20,000 was stolen on the night of the break-ins which were monitored in real-time by the company's security firm.
For more on this another stories from Birmingham and Black Country
When he called West Mercia Police they told him "to call West Midlands on 101 because '[your firm is] in the West Midlands, it's nothing to do with us."
"When I called West Midlands Police the call handler said the police are too busy and can't come out. The policy apparently is not to come out to commercial burglaries."
Mr Smart said about 50 minutes after the first alert he again saw the perpetrators on CCTV returning to his premises and again dialled 101.
Police went to his business on the Wallows Industrial Estate several hours later on the afternoon of 13 May.
West Midlands Police said an investigation was under way.
In a statement, it said: "We have been made aware that the victim in this case is disappointed with the police response and we are discussing these issues with him to understand the concerns he has and to address them accordingly."
West Mercia Police said there was "not the standard of service" which Mr Smart had "every right to expect" from the force.
Ch Insp Sean Kent said: "When there is an emergency incident taking place and a 999 call has been mis-routed, it is usual for the call-handler to take all appropriate details and relay the information to the responsible force for the area in which the incident is occurring.
"In this instance, this did not happen."