'Abused' Haslemere lollipop man gets body camera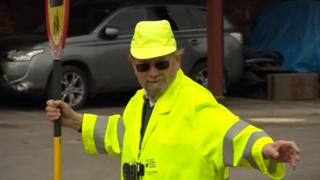 A lollipop man has been issued with a body camera in a pilot scheme aimed at clamping down on dangerous drivers.
Len Howard, who helps children cross outside Camelsdale Primary, Haslemere on the West Sussex/Surrey border, will wear the camera on his chest.
West Sussex County Council said it had worked with the school and police to get the scheme off the ground.
"I've had people actually drive at me, verbal abuse and all the hand signals," said Mr Howard.
"It's because people are inconvenienced for a second because they are in their own little world.
"I feel sad because they are risking children's lives."
It is an offence to drive past a school crossing patrol while they are in the road and signs have been put up outside the school to warn drivers they are on camera.
If footage of an offence is captured, it will be passed on to police to consider prosecution.
Offenders face a possible fine and three points on their licence.
Camelsdale parents said School Road was dangerous for children because of speeding drivers.
Head teacher Sarah Palmer said: "Sadly we have had occasions when people have driven round Mr Howard or wound down their windows and shouted abuse at him and that's not OK for anybody near any school community."
The county council said it would consider giving body camera to crossing patrols outside other schools with similar problems.