Arson charge after Digbeth wholesale market fire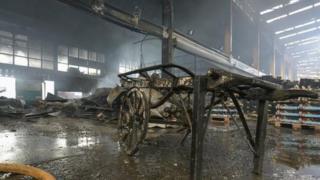 A man has been charged after a fire at a wholesale market which left parts of it closed for several days.
Stephen Wilkinson, 59, of Redditch, Worcestershire, has been charged with arson with reckless intent to endanger life after a fire at Digbeth wholesale market, Birmingham, on 6 August 2015.
The blaze took about 40 firefighters nearly two hours to control.
Mr Wilkinson, of Mickleton Close, is due before Birmingham magistrates on Wednesday.
The fire left parts of the market closed for several days following structural damage and stock destroyed, police said.