Leicester City: Who is riding the marketing bandwagon?
By Bethan Bell
BBC News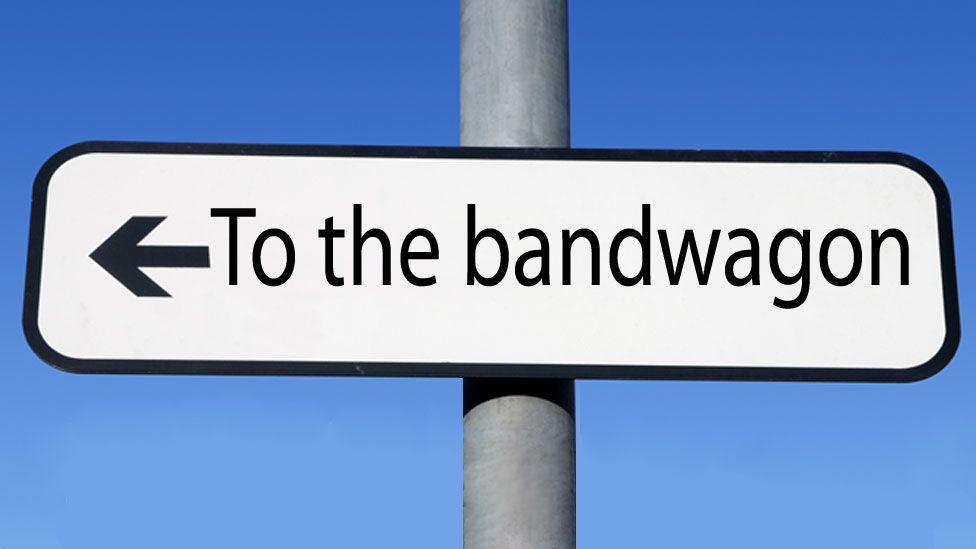 Hailed by romantics as a rare fairytale of modern-day sport, Leicester City - the 5,000-1 Premier League champions - have also become a bandwagon for more cynical marketing masterminds to jump aboard.
BBC News takes a look at some of the more imaginative - and tenuous - attempts to cash in.
The supermarket chain Asda has "created the unique Vardy Cardy" - named in honour of the club's striker Jamie Vardy - through its clothing range George.
Keen to point out the brand's Leicestershire roots (its HQ is in Lutterworth), the press release points out that the garment's royal blue colour matches "the team home kit colour" and explains that the "v" in "v-necked" is no longer simply a fashion staple, but apparently "a tribute to Vardy".
Terrifyingly, there's a new trend in knitwear - the team at George created something "snazz-cas" (snazzy and casual) for slick supporters to wear to a match.
Dan Pole, who is behind the Asda Vardy Cardy, says: "At first we only had a couple but then everyone wanted one because they think they look proper smart".
And he has faith in his creation.
Mr Pole's blithe - but unlikely - appraisal is: "We're in the Champions League next year, so you never know - we might end up wearing these abroad and impressing the locals in the likes of Paris and Milan".
Optimistically described as a "potential fox football trophy for Leicester City fan/club/bar", this stuffed fox is nicely mounted on a wooden plinth.
Leicester are - of course - known as "The Foxes".
The handsome vulpine was converted into a somewhat tremulous-looking effigy by taxidermists in France.
The current owner, who lives in France, says he's keen to repatriate his foxy friend to the UK.
Catering for those who enjoy slurping the faces of their sporting heroes, the "Vardyccino" was dreamt up by coffee shop owner Hamza Bodhaniya of Bru Coffee and Gelato in Leicester.
Selling at £2.15 for a regular cup and £2.45 for a large, the Vardyccinno has proved popular with punters.
The drink is elevated from being a mere cappuccino by chocolate powder dusted on top in the shape of Vardy's head and upper body.
Fans of other clubs or players can avoid seeing the striker peering up from under their chin by stirring his face into the hot liquid.
Super-fans, though, might want to take the magic of the Vardyccinno with them by sporting a froth moustache.
"Want to immortalise your very own Vardy Gras? Of course you do!" insists photography company Studio 56 in its advert, confidently comparing a festival in the streets of Rio de Janeiro to a room in Leicester.
This opportunity to "capture your success with a Leicester City FC celebration photoshoot" is offered to groups of "up to 20 super-fans", who can pose with provided scarves, flags and footballs.
Photographed groups are provided with 10 prints, including eight wallet-sized ones, so fans can carry round a picture to remind them - not of Leicester City's epic performance, but of the day they paid to have their picture taken with a scarf.
Although the advertising pitch may be tongue-in-cheek, the car could be suitable for one of the team keen to avoid getting mobbed, as it has privacy windows fitted in the back.
But is it almost Leicester City blue?
Leicestershire, although it has many admirable farms and crop-growers, is not known for its production of Caribbean sugar cane.
But that was no barrier for the people behind Captain Morgan rum, who rejoiced in the happy coincidence of a Leicester City player not only having the surname Morgan, but being the captain.
So a Captain Morgan limited edition bottle with the face of Wes Morgan was speedily produced.
Fans were keen to get their hands on one, with Twitter erupting with the hashtag #OnlyOneCaptainMorgan.
Staff at Pizza Hut in Leicester have actually changed their names to match the winning team. Twelve employees have officially altered their name, according to restaurant manager Claudio Ranieri (previously Charlotte Smith).
She says the mass name-swapping was Pizza Hut's way of celebrating the "incredible achievement in a unique way".
Ms Ranieri enthusiastically adds: "Fans will now be able to enjoy a delicious meal and drinks in the Hut served by their favourite star player.
"Whoever thought this would be possible?"
The Labour MP, Keith Vaz, decided to wear a Leicester scarf to the House of Commons.
To be fair, he is the MP for Leicester East and therefore has more of a claim to the glory than many of his colleagues, but derogators were quick to poke fun on Twitter.
"However, I am invited from time to time into the directors' box to watch matches.
"The annual value of this benefit is below registrable value".
They are polished pink gemstones from China.
According to the Crystal Metaphysical Encyclopaedia, rose quartz is "a stone of love, tenderness and sensuality, a powerful aphrodisiac, stimulating sensual imagination".
Although it's arguable Foxes fans have had enough excitement for one year.
Several entrepreneurial spirits are offering the stuff ranging in price from £15 to £30 a jar.
Cliff Ginnetta, chairman of the Foxes' supporters club, said he could understand why people would want to "breathe in great gulps" of the air, which has hints of "French and Italian".
The seller says he bought it at a local sandwich shop around the corner from the King Power stadium on 2 May - the day Chelsea held Spurs to a draw to enable Leicester to win the premier league.
The sandwich has been placed into an air sealed bag, which has been dated. Bids start at £1.00 and postage is estimated as "not much".
Unfortunately, the vendor has missed a trick in his marketing a Leicester sandwich by using cheddar.