Royal Wolverhampton NHS Trust whistleblower 'not treated fairly'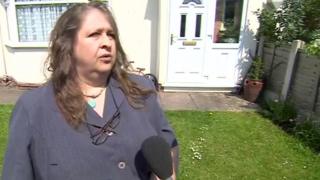 A whistleblower at a health trust was "not treated fairly," an independent inquiry for the NHS has found.
Head of clinical coding and data quality Sandra Haynes-Kirkbright, who raised concerns about hospital records and finances, was suspended by the Royal Wolverhampton NHS Trust.
The trust said it acknowledged the report's findings "none of which" relate to issues around patient safety.
Ms Haynes-Kirkbright said she hoped her reputation would now be repaired.
"I hope the report will lead on to actually investigating the whistleblowing issues I blew the whistle on... I want my reputation back," she said.
Ms Haynes-Kirkbright, from Stafford, was suspended four years ago and is waiting to know if she can return.
The report for NHS regulator, the NHS Trust Development Authority (TDA), said it found "several examples of the trust not having followed due process" in its policies and procedures and legislation "in investigating and handling" allegations by and about Mrs Haynes-Kirkbright.
It added trust investigations of her whistleblowing allegations were "significantly flawed" to the extent "that their findings were used as a basis" for a subsequent disciplinary procedure.
The report said: "With a few exceptions, the findings were not reasonable based on the evidence.
"Our review revealed some evidence of a lack of governance and proper management at senior levels.
"We have provided evidence and findings on this separately to the TDA, which is commissioning an independent governance review of the trust."
The trust said the report "relates to events from over four years ago".
It claims it now takes whistleblowing "extremely seriously" and that it always encourages anyone to come forward with concerns.