Payout for Crawley boy brain damaged at birth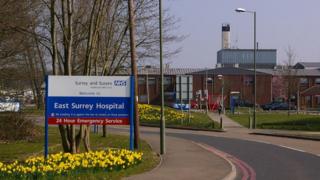 A seven-year-old boy who was severely brain damaged at birth has been awarded a multi-million pound settlement.
Thomas Hord was deprived of oxygen for 20 minutes during his birth before being delivered by emergency caesarean at East Surrey Hospital in March 2009.
Mr Justice Warby, at London's High Court, approved an agreed settlement involving a lump sum of £2.5m against Surrey and Sussex Healthcare NHS Trust.
The trust said it was "extremely sorry for the errors in Thomas's care".
The youngster, who lives with his family in Crawley, West Sussex, has severe cerebral palsy, epilepsy and cannot speak.
The court heard he has relatively preserved cognitive ability and attends a primary school.
'Enormous hurdles'
The trust admitted liability in 2011.
Michael Wilson, chief executive, said it regretted "the difficulties" caused for Thomas and his family.
"I am pleased that the court has given approval to the resolution and compensation agreed with Thomas's parents and hope that this will support Thomas and his family for the future," he said.
The compensation package includes annual payments starting at £100,000 a year and rising to £245,000.
Mr Justice Warby echoed the comments of the trust's counsel, Margaret Bowron QC, who praised the care given by Mr and Mrs Hord and Thomas's "fortitude".
"He has obviously had enormous hurdles to overcome in his short life and has done so with tremendous enthusiasm and resolve," she said.