On-the-run fraudster Norman Fowler held in Spanish jail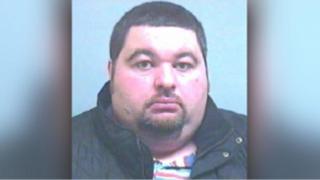 A serial conman wanted by police for a £21,000 fraud in the UK is being held in a Spanish jail, the BBC can reveal.
Norman Fowler went missing in 2014 after being sentenced to nine months in jail at Norwich Crown Court.
The 38-year-old, from Colchester, later moved to Alicante where he is being held in custody while on remand for unrelated gun licensing matters.
Essex Police confirmed an arrest warrant for him remains outstanding.
But the BBC tracked him to Alicante where he had been renting an apartment from a British businesswoman.
Videographer Tom Tailford, from Norfolk, who had cameras stolen by Fowler, set up a website to expose him and track him down. As a result came several other alleged victims got in contact.
Norman Fowler on the run
February 2009 Arrested in connection with fraud and car crime offences, but failed to answer police bail

April 2014 Failed to appear at Norwich Crown Court

December 3 2014 Tried in his absence and sentenced to nine months

December 2014 Rented an apartment in Spain

April/May Arrested by Spanish Police

November Extradited back to the UK
Mr Tailford said: "I was devastated when I lost my cameras, and disappointed when he didn't appear in court after all the work I had done.
"The police should have done more. I wasn't the only person affected.
"I feel completely failed by the legal system and the police who uphold it".
Fowler stole £21,000 worth of camera equipment from Mr Tailford in 2012. He rented the equipment to Fowler after being contacted by him on internet sales site Gumtree, but it was never returned and no fees were paid.
Fowler, last known to be living at Propelair Way, Colchester, is wanted by police in Essex and Norfolk for fraud involving at least nine victims.
In December 2014, he rented an apartment from British businesswoman Betty Inglis, who has lived in Spain for 40 years.
She said he had been a good tenant who paid his rent on time and "was a very friendly guy".
She discovered his previous indiscretions via an internet search, but decided not to take any action.
"We did see he was wanted by police, but there are a lot of scams out here and you don't believe them all," she said.
"Mostly people say they are something they are not. And he was was just such a nice guy."
In January this year, Fowler moved to nearby Pedregeur after his neighbours found out about his past.
Once there he tried to sell a car to ex-pat Diana Lindsay-Vosper. The vehicle turned out to be stolen.
She said Fowler, who had told her he was dying from cancer, was "dishonest" and a "flagrant user of people".
He was later arrested by Spanish Police in relation to gun licensing matters. He remains on remand in the Fontcalent Prison in Alicante.
The Foreign and Commonwealth Office confirmed the British Consulate has visited Fowler in jail.