East coast resort sun-seekers enjoy hottest day of year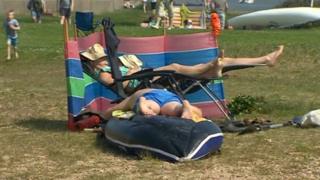 Hundreds flocked to east coast resorts over the weekend to enjoy the hottest day of the year so far.
Families and individuals enjoyed the hazy sunshine and strong breezes at West Mersea Beach in Essex.
Forecasters are predicting that after a cool night with fog patches in Norfolk and Suffolk, Monday will be sunny again.
But the highest temperatures will be inland until skies cloud over later in the day.