Ryedale aircraft crash: Tributes paid to RAF pilots Ajvir Sandhu and Cameron Forster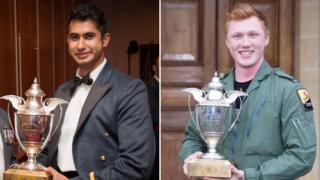 Tributes have been paid to two RAF student pilots who were killed in a light aircraft crash.
Cameron James Forster, 21, from Burgess Hill, West Sussex, and Ajvir Singh Sandhu, 25, from Essex, died when the plane came down in North Yorkshire.
They were the only people on board when it crashed off Mains Lane, in Ryedale, at about 10:40 BST on Saturday.
The Royal Air Force (RAF) said both were "extremely popular members" of the Number 72 (Reserve) Squadron.
The pair had privately hired a Slingsby Firefly aircraft, which they were qualified to pilot, from the Full Sutton Airfield, near York, the RAF said.
Mr Sandhu's family described him as a "true born leader".
His parents said: "He achieved more in his short time than some achieve in a lifetime, but he still found time to be one of our best friends.
"He had a unique charisma which seemed to capture everyone's attention and a natural ability to light up any room, both qualities will be sorely missed."
Mr Forster's parents described him as a "talented musician, sportsman and pilot" who was a "loving son, friend and a caring brother to his two sisters".
"We are immensely proud of all he has achieved in his short life," they said.
"Cameron was a larger than life character and was always positive.
"We will miss him in more ways than can be imagined."
The pair were RAF student pilots who were learning to fly other planes.
Wing Commander Chris Cartmell said: "It is very sad that two talented young pilots have been taken from us so early in what would have undoubtedly been highly successful flying careers.
"Our thoughts are with their families and friends at this difficult time."
The Air Accidents Investigation Branch is due report on the crash.