Asian advice centre celebrates 50th anniversary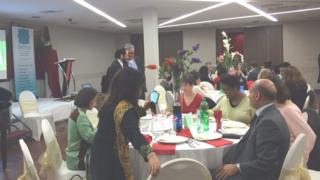 An advice and support centre for Greater Manchester's Asian population is celebrating its 50th anniversary.
The Pakistani Resource Centre (PRC) was formed in 1966 by a group of men who had left their families behind in Pakistan, spoke little English and had no support when they came to the UK.
It has helped generations of immigrants to settle in the region and originally organised social and cultural trips.
Following government funding cuts the PRC says it now raises its own money.
It was initially based in the same building as a textiles business run by entrepreneur Amin Marfani, who arrived in Cheshire in the 1950s.
The support group moved to Great Marlborough Street, in Manchester city centre, in the early 1990s before relocating to its present Withington base.
Practical advice has always been given by the support group about how to fill in government forms and deal with immigration enquiries.
Public sector cuts have had a real impact in recent years.
The founder's son Rafiq Marfani said: "We now rely on raising our own funds - it's nothing like what we used to get, it'd be a tenth of [the £300,000 the PRC used to receive in government funding]."
The work of the centre has changed over the years - it now increasingly focuses on issues including mental health and tackling domestic violence.
Project co-ordinator Parveen Javed said: "There's still a language problem but we also deal with cases of Islamophobia and young people with an identity crisis who feel they don't fit in anywhere."