Leicester City: Will Premier League win help community?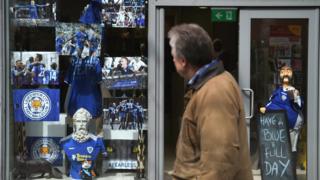 Leicester City's success in the Premier League is expected to bring a £5 million boost to the local economy, business leaders estimate.
Hotel bookings by away fans wanting to see clubs play the "ones to beat" next season, plus spending on transport, food and drink, are set to increase trade.
East Midlands Chamber of Commerce expects a big windfall if Leicester also does well in the Champions League.
Studies have shown having teams in the Premier League can help support jobs.
The Chamber analysed data including travel firm goeuro's Football Price Index. It said a season in the Premier League was worth £17m to the city. It expects this to rise by £5m next season when Leicester competes in the group stage of the Champions League and visiting fans from some of Europe's biggest clubs come to the city, with an extra £1.3m per additional round the clubs plays in.
However, the figure is significantly less than the benefit the club can expect to reap, according to sports data and marketing firm Repucom, which says it is in line for a £150m boost.
Impact of Leicester's win
£150m
estimated boost for the club
£5m
estimated benefit to the city
£19bn total value of Leicester and Leicestershire economy

901 restaurants in Leicester, many of which can expect more trade

61 hotels/B&Bs in Leicester, where fans are likely to book more rooms
Getty Images
Chamber chief executive Scott Knowles said winning the Premier League, after being considered the 5,000-1 outsiders, had "put the city on the global footballing map".
"Leicester City competing in the Premier League is worth around £17m to the city in terms of fans' spend and this will be boosted significantly next season when the club embarks on its first ever Champions League campaign," he said.
"There will also be other benefits that you can't really put a value on. It will put Leicester in the spotlight of the world's media which, from an investment point of view, is publicity you simply cannot buy, while the feel-good factor it has created will boost workplace morale long into the summer, translating into productivity gains for many local firms.
"Coming on the back of the successful hosting of Rugby World Cup games last autumn and the discovery and reinterment of Richard III, and the hosting next year of games in the ICC Women's Cricket World Cup, this phenomenal achievement will help to further establish Leicester as a great place to live, visit, invest and do business."
'The ones to beat'
The Premier League is typically dominated by Chelsea, Manchester City, Manchester United or, in the early 2000s, Arsenal. The last time it was won by anyone other than those four was Blackburn Rovers in 1995.
A study on the impact of promotion to the Premier League was carried out by Cardiff University, when it investigated Swansea City's rise in 2011.
It found Premier League football generated £58m to the local economy, supporting an estimated 400 jobs.
One of the Swansea report authors, Prof Max Munday of Cardiff Business School, said Leicester could expect a further boost.
"One of the most important benefits for towns and cities of their team winning is increased visibility," he said.
"Coming at the top of the Premier League will lever new opportunities for some Leicester businesses. There will be fans of other clubs visiting, as Leicester will be seen as the ones to beat next season.
"However, there will be something to counter that to some extent. There will be home fans going out of the city to attend matches elsewhere and overseas.
"Even so, I would be gobsmacked if the city council did not make the most of this and good luck to them."