Great Western Main Line: £90m upgrade work contracts awarded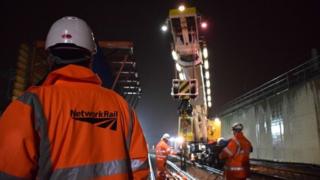 Network Rail has awarded contracts worth £90m to complete re-signalling and upgrade works on Great Western Main Line between London and Reading.
A £79m contract for re-signalling work between Reading and Paddington has been awarded to Alstom.
Amey has won a separate £11m contract for power supply work between Paddington and Hayes and Harlington.
Network Rail said the work was "crucial" to the future operation of Elizabeth Line services.
The line, currently known as Crossrail, will operate beneath London from December 2018 with a full route opening in 2019, allowing passengers in west London and Berkshire to travel through central London to Essex.
'Vital step'
Matthew Steele, Crossrail programme director at Network Rail, said: "This is a vital step in the delivery of a bigger, better, more reliable railway for London and the South East.
"By ensuring the new trains can run seamlessly amongst existing rail services and by building in resilience at the outset, we increase the capacity and reliability of the railway meaning that passengers benefit from quicker and easier journeys they can depend upon."
Network Rail said the work between Paddington and Hayes and Harlington would enable the system to be automatically supplied from separate supplies in the event of a power failure.
"This drastically reduces train delays whilst maximising reliability for trains on the approach to and from Paddington," it added.