Gang member jailed 20 years after Coventry DJ pub attack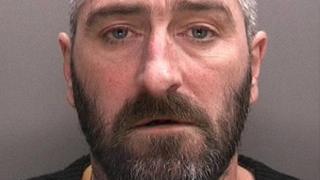 A man who shot a Coventry pub DJ in the face after being asked to leave the premises has been jailed nearly 20 years after the attack.
Anthony Stephens, who was a member of the biker gang "The Outlaws" fired the bullet at The Plough, London Road, on 20 October, 1996, police said.
He was found guilty of causing of grievous bodily harm and jailed for three years at Warwick Crown Court.
The jury found Stephens not guilty of attempted murder.
The 49-year-old, formerly of Cranberry Road, Tile Cross, Birmingham, was also found not guilty of causing grievous bodily harm with intent at the hearing on Monday.
West Midlands Police said Stephens and his group of friends began damaging parked cars outside the pub and the DJ went outside to stop them when he was shot.
'Bullet in brain'
The bullet "ricocheted around the then 31-year-old's skull and became lodged in his brain where it has remained ever since, causing long-term damage", a police spokesman said.
Stephens fled to Ireland after the incident and was arrested after landing at Birmingham Airport in November, 2013.
Det Sgt Naomi Mauchan, who led the investigation, said: "Anthony Stephens' actions on 20 October 1996 had a truly devastating impact, ruining the victim's life and deeply affecting his family.
"My hope is that this conviction demonstrates how cases are never truly closed and we will always seek to take action against those responsible for crime, regardless of the passage of time."
She thanked the victim and witnesses who she said had "demonstrated great personal courage in giving evidence in a trial which was especially difficult due to the length of time since the events took place."