Stratford-upon-Avon Bard anniversary statue 'too distracting'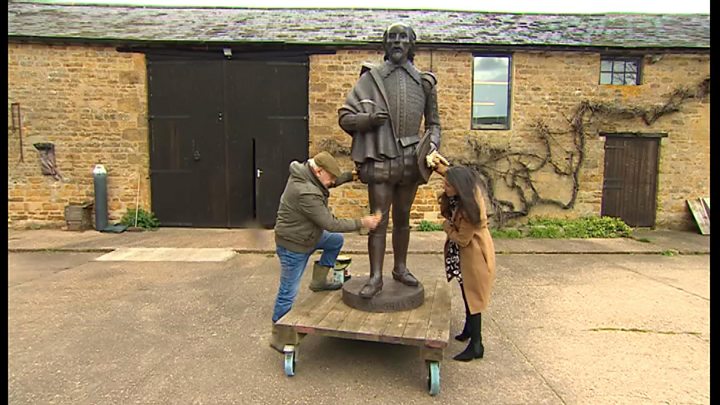 A statue of Shakespeare has yet to find a home after being deemed distracting for motorists in Stratford-upon-Avon.
The application to put James Butler's 8ft statue on a traffic island on Bridge Street was withdrawn earlier this year.
Warwickshire County Council said the location, which serves five roads, was "unsuitable" on highway safety grounds.
Mr Butler, 84, who has sculpted the Queen, had wanted it to be part of the weekend's Shakespeare celebrations.
More on this story and others from Warwickshire
Tens of thousands of people marked the 400th anniversary of the Bard's death in his home town on Saturday, while many stars took part in a gala screened live to 368 cinemas in the UK and Europe.
Mr Butler said that his statue of the playwright, which was cast at a foundry in Cropredy, Oxfordshire, remained in his yard in Warwickshire.
The planning application was withdrawn by businessman Tony Bird who had commissioned the gun metal-bronze statue.
Stratford-upon-Avon Town Council had also objected to the "totally unsuitable" site but said it would welcome the statue in a more appropriate and accessible setting.