Aldershot woman Patricia Irwin may have died after spider bite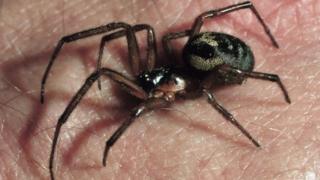 A woman may have been bitten by a false widow spider three weeks before she died in hospital, an inquest has heard.
Patricia Irwin, 60, had to have part of her finger amputated in hospital after her GP noticed a tiny infected wound.
Her daughter Caroline Elpelt found what she thought was a dead false widow spider on her mother's computer keyboard, in Aldershot, Hampshire.
Coroner Anna Crawford said Mrs Irwin died of sepsis, and the wound may have been caused by a spider bite.
However, recording a narrative verdict, she said the evidence was "inconclusive" about whether a spider caused the infected wound, or led to sepsis developing.
She also referred to the hospital's failure to appreciate the severity of Mrs Irwin's deteriorating condition, before her death in November 2014.
Pathologist Dr Fagan Earl told the hearing that Mrs Irwin would not have been killed by spider venom, but by a secondary infection caused by bacteria, possibly entering through the lesion.
The inquest heard she had asthma, lung and breathing difficulties and poor circulation in her hands may have stopped antibiotics reaching the infection.
Junior doctor Alison Hawker, who treated Mrs Irwin at Frimley Park hospital in Surrey, said she was left managing 50 patients and had called for advice from more senior registrars but none had come to see her.
Deputy medical director Dr William Dewsbury admitted several hospital failings surrounding Mrs Irwin's care.
'Care review'
He referred to problems with nursing care, late antibiotics, poor recording of medical observations and a failure to escalate care to senior staff.
A spokesman for Frimley Health NHS Foundation Trust said: "While the coroner concluded [the failures] did not in all likelihood contribute to Mrs Irwin's tragic death, we are very sorry our care was not up to the standard our patients should expect.
"We have carried out an extensive review and implemented actions to improve care in similar cases.
"Our thoughts are with Mrs Irwin's family at this time".
Mrs Irwin's daughter Julie Lungley said her mother was "supportive, loving and caring" and "a perfect mother and grandmother whose home was like an open cafe".