Cpl Anne-Marie Ellement 'had discussed threesome' with two colleagues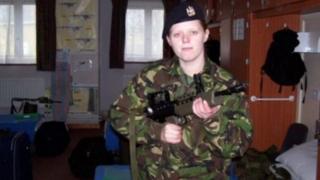 An Army corporal who was allegedly raped by two colleagues had discussed having a threesome with them, a military court in Wiltshire has heard.
Anne-Marie Ellement, from Bournemouth, was stationed in Germany at the time of the alleged attack in 2009. She has since died.
Former corporals Thomas Fulton and Jeremy Jones, who are both 28 and have since left the Army, deny rape.
The admit they both had sex with Cpl Ellement but claim it was consensual.
A panel of civil servants and senior military officers heard Cpl Fulton, Cpl Jones and Cpl Ellement, who was serving with the Royal Military Police at the time, had been drinking heavily with two colleagues - Cpl Joseph Merron and L/Cpl Arron Harris - before the alleged attack.
Mr Harris, who has also since left the Army, said he remembered the conversation turning towards "a serious discussion" of three-way sex.
The court was told he also witnessed Cpl Fulton and Cpl Ellement kissing and touching each other, and saw Cpl Ellement sitting on Cpl Jones' lap while he touched her legs.
"She was making no movement to stop it at all," Mr Harris said.
Cpl Merron said he also overheard them discussing a threesome and witnessed "flirting" between Cpl Fulton and Cpl Ellement.
Sarah Noteyoung, Cpl Ellement's friend and Cpl Fulton's then girlfriend, told the court she received a message from Cpl Fulton apologising at 01:33 - shortly after the alleged rape.
"All I can say is I honestly didn't do anything wrong and I'm sorry, I'm going to turn my phone off night! X," it read.
Miss Noteyoung, who was a corporal in the Army at the time and attending a funeral in England, later replied: "R u ok? X"
A further message said: "Tom. I dunt care what ppl are saying or what they think. I want to stay with you. Ive never been so devastated in my life. Thinkin bout you. This funerals so hard without u here. Cu 2Moz 7 x".
Cpl Ellement, who was 28 at the time, was later found nearly naked and crying outside her accommodation by Cpl Charlene Pritchard.
"She was hysterical, she was all over the place," she told the court.
Cpl Pritchard said she initially believed Cpl Ellement's account of the alleged attack but her opinion changed during a week spent together in Hereford.
"Initially she only mentioned she had sex with one of them and then, it was later that day or the following morning, that she said she had sex with both of them."
She added: "It just changed on a daily basis."
In a video interview Cpl Ellement said she told the accused men she found the idea of a threesome "disgusting" and would never have taken part in one, the court heard.
Cpl Fulton, formerly of 174 Provost Company 3 Royal Military Police, and Cpl Jones, formerly of Close Protection Unit Royal Military Police Operations Wing, each deny two charges of rape.
The trial continues.