Maternity services for Dorset and Somerset 'could be pooled'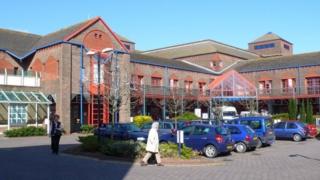 Maternity and paediatric services could be pooled between two hospitals in Dorset and Somerset, a review has said.
A Royal College report for Dorset's Clinical Commissioning Group (CCG) suggested a partnership between the Dorset County and Yeovil hospitals.
The CCG had previously said it was considering moving paediatric services from Dorchester to east Dorset.
Campaigners have said a Yeovil partnership would be a preferred option.
Last year protests were held after Dorset Clinical Commissioning Group - which commissions health services in the county - said it would consider moving paediatric services from the Dorchester hospital to either Poole or the Royal Bournemouth and Christchurch.
Following the independent review carried out by the Royal College, a feasibility study will now look into a single paediatric and midwifery service for west Dorset and south Somerset.
Both hospitals have six months investigate whether such a partnership could work.
Dr Karen Kirkham, lead for maternity and paediatrics at Dorset CCG said the review reflected the "new models of care", with options including one hospital having an inpatient unit and consultant led unit, while the other houses a midwifery unit and paediatric assessment unit.
"The report has suggested ways in which can develop community care to support patients closer to home. And in some cases you wouldn't need a inpatient admission.
"We can't be under any illusions that our medical workforce in the years to come is going to be challenged, so we do need to find new ways of meeting those needs."