NFU calls for supermarket supplier scheme to be extended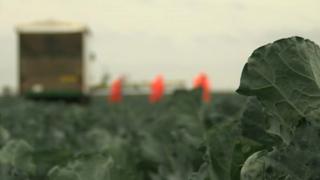 A Government scheme which protects direct suppliers to supermarkets should be extended to include all growers, the National Farmers Union (NFU) has said.
Farmers who supply supermarkets indirectly are not currently covered by the Groceries Code Adjudicator scheme.
The NFU said some producers had reported waiting months for payment when dealing with "middle-men".
A spokesperson for the government said a review was due shortly.
The Groceries Code Adjudicator (GCA) is the UK's first independent adjudicator to oversee the relationship between supermarkets and suppliers.
Its role is to ensure large supermarkets treat direct suppliers lawfully and fairly, and to investigate complaints and arbitrate in disputes.
The NFU wants the watchdog's remit extended to cover the whole supply chain.
'Point of view'
Sarah Dawson, from the NFU, has met with farmers across the country, including areas such as Lincolnshire, Worcestershire, Cornwall and Herefordshire.
She said many farmers had reported problems with late payments, cancelled orders after crops had been planted and changes in agreed payments.
"I was talking to a grower who told me he was over five months late being paid for the previous year's crop," she said.
"He was having to go to the bank for a loan to tide him over.
"That's not a healthy way in which to run a business and that's not a healthy way for a supply chain to operate."
The NFU is also calling for more supermarkets to follow the example of Aldi, which implemented a Fruit and Veg Pledge voluntary code of practice for its suppliers.
However, Tim Mudge, from the British Growers Association, which represents both small and large growers, as well as packers and producers, said all those involved "need to understand each other's point of view".
He said: "What we would try to encourage is an open dialogue between the growers, packers, middle-men.
"I don't think it's a case of defending or prosecuting anyone - it's about openness and transparency."
The government said it would look at how best to help the farming industry as part of its review into the GCA.