Stolen badges returned to family of decorated SAS soldier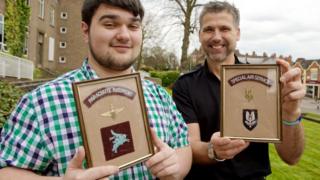 The family of an SAS soldier celebrated for his role in ending the 1980 Iranian Embassy siege has received his stolen Army badges.
John McAleese, who died aged 62 in 2011, was part of the team in the effort to rescue 26 people in London.
SAS and Parachute Regiment badges were stolen from his Hereford home, then found in a drug dealer's car in 2010.
They were taken again before they could be returned to him, but a former Army colleague helped to trace the family.
PC Alan Reeves from West Midlands Police returned the badges to Mr McAleese's family.
Widow Joanna went with her son Kieran to Sutton Coldfield police station to collect the items.
"The badges were very dear to John's heart and he was gutted to find they'd been taken," she said.
"They will be returned to pride of place in a glass display cabinet alongside other memorabilia from John's time in the SAS."
The Iranian Embassy Siege unfolded when six armed men stormed the South Kensington building.
An audience of millions watched on television as a dramatic SAS raid - known as Operation Nimrod - brought the six-day siege to an end.