Parents pay tribute to hunt riding death girl Bonnie Armitage, 9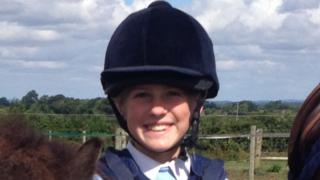 The parents of a nine-year-old girl who was killed in a horse-riding accident while out with a Gloucestershire hunt have paid tribute to her.
Bonnie Armitage was kicked by a horse while on her pony during a ride with the Cotswold Hunt in Miserden, near Stroud, on Saturday.
In a statement, her parents Nick and Polly described her as a "beautiful, vivacious and compassionate girl".
They said she "touched the hearts of everyone who knew her".
Gloucestershire Police said she suffered serious injuries and was taken by air ambulance to Gloucestershire Royal Hospital where she later died.
'Tragic accident'
A source told the Press Association that the girl, from near Wantage, Oxfordshire, was riding slightly behind a bigger horse that kicked her off her pony.
Bonnie's parents said she loved riding and was "never happier than when with her Shetland pony, Lindsay".
They said Lindsay, was "absolutely fine" after the "tragic accident" and that it was not the animal's fault "in any way".
"We will miss her more than we can say, and we greatly value the prayers of so many of our friends," they added.