Robert Plant-backed charity mandolin sale tops £2,000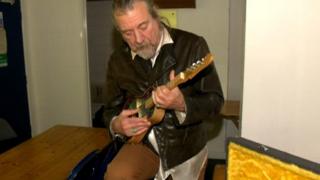 A stained glass electric mandolin signed by musician Robert Plant has been auctioned for £2,250.
The instrument, which lights up when being played, was sold in an online auction to raise money for the Teenage Cancer Trust.
Shropshire filmmaker Andrew Bullas put together a documentary about the creation of the unusual instrument.
Photos of the Led Zeppelin star signing the instrument were included in the lot.
Mr Bullas, from Alveley, travelled to Orkney to watch local craftsman Dick Levens making the instrument. He produced a film called The Stained Glass Mandolin which attracted the attention of Worcestershire-based Plant.
The mandolin, made from ash and maple wood and painted glass panels, took two years to complete.