Missing girl Jade Lynch was 'going to meet somebody'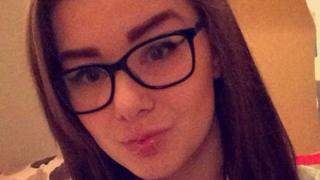 A 14-year-old girl who has been missing for nine days told her brothers she was going to meet somebody on the day she disappeared, police have said.
Jade Lynch, who lives in St Helens, was last seen on 26 March.
The teenager was on her way to St Helens town centre with her two younger brothers but left them in the Duke Street area in order to meet somebody, Cheshire Police said.
Officers appealed for her to get in touch to let them know she is safe.
Extremely vulnerable
Jade, who is originally from Warrington, was wearing a black hoodie, black trousers and white Nike trainers when she went missing.
Det Supt Jon Betts said the teenager left home in Denton Green Lane at about 13:00 BST with her two younger brothers "heading for St Helens town centre."
"Whilst on her way to town Jade then told her brothers that she was going to meet somebody and they parted company in the Duke Street area... Jade has not been seen or heard from since."
Police are "becoming increasingly concerned" because she is "an extremely vulnerable person" and they think she had no cash or mobile phone with her, he said.
Det Supt Betts said they were following "a number of lines of inquiry" and urged anyone who "believes that they may have seen Jade, or anyone matching her description" to contact police.
He said she has links to the Merseyside and Manchester areas but may also have links "as far north as Cumbria and as far south as Bristol".
Jade is described as white, about 5ft 6ins (1.7m) tall, of medium build, with long straight black hair.