Adam Johnson in court for sentencing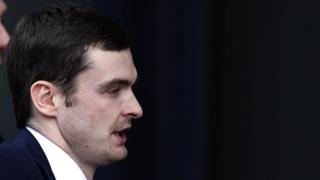 Footballer Adam Johnson is to appeal against his conviction for sexual activity with a 15-year-old girl.
The 28-year-old England international was found guilty of sexual touching but cleared of one charge relating to another sexual act following a trial at Bradford Crown Court.
The court was told the grounds for appeal had been lodged on Thursday.
The former Sunderland winger is back before Judge Jonathan Rose for his sentencing hearing.
Johnson arrived at the court as a line of police officers guarded the front while reporters and photographers waited outside.
Prosecutor Kate Blackwell QC told the sentencing hearing there was a "significant disparity" in age between the footballer and the girl.
She said: "The most apparent feature in the view of the Crown is the severe psychological harm that the defendant has caused to the victim."
'Psychologically immature'
Ms Blackwell said the girl had suffered at school, both in her work and from bullying because of Johnson's actions.
The prosecutor also told the court that Johnson had a history of meeting girls for sex, describing it as a "clandestine habit".
Dr Philip Hopley, a consultant psychiatrist giving evidence for the defence, told the court: "This is a man who, at the age of 28, is socially and psychologically immature."
The doctor said he found no evidence in Johnson of an attraction to pre-pubescent children or "sexual perversion".
Judge Rose has previously warned Johnson he faces a "substantial prison sentence".
The charges relate to a meeting between the girl and Johnson in his Range Rover in County Durham on 30 January 2015. The footballer admitted grooming the girl and one charge of sexual activity.
Johnson began his career at Middlesbrough before moving to Manchester City and then on to Sunderland in 2012. He won 12 England caps between 2010-2012.