Southern Health NHS trust deaths response criticised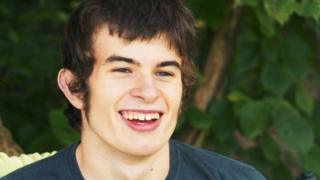 The mother of a man whose death sparked an inquiry into a health trust has criticised a lack of response after it was revealed it failed to investigate hundreds of deaths.
Sara Ryan said the response following the report into Southern Health NHS Foundation Trust had been "like tumbleweed".
Her son Connor Sparrowhawk drowned in a bath while in Southern Health's care.
The trust has apologised for failings and said systems had improved.
Rob Greig, the government's former national director for learning disabilities, has also described the response as "profoundly disappointing".
"The life of people with learning disabilities is not a sufficient priority for the government," he said.
Southern Health provides services to about 45,000 people across Hampshire, Dorset, Wiltshire, Oxfordshire and Buckinghamshire.
A report by audit firm Mazars, published in December, said the deaths of hundreds of mental health and learning-disability patients over four years were not properly examined, and blamed a "failure of leadership".
It was ordered following the death of 18-year-old Connor, who drowned in a bath following an epileptic seizure while a patient at Oxford's Slade House.
---
Changes the trust says it has made regarding patient deaths:
Reports made by the trust are now reviewed by a clinically-led panel, including an executive member, which is monitored daily by the trust's quality and governance team
Deaths are no longer defined as "expected" or "unexpected", in a bid to ensure every death is scrutinised by the panel and investigated further if required
All 289 deaths reported between 1 December and 29 February have been reviewed by the panel
Where possible, every family has been offered the opportunity to be involved in an investigation into the death of their loved one
All clinical staff have been informed of the requirement for them to adhere to the new system, and compliance is monitored and scrutinised by a member of the executive team
Source: Southern Health NHS Foundation Trust
---
Ms Ryan said she assumed there would be "immediate action" over the findings.
''And we couldn't have been more wrong. Astonishingly, the response has been like tumbleweed.''
Mr Greig also questioned why trust chief executive Katrina Percy was still in place.
''If I were the chief executive of a trust that had a major report accusing me of leadership failure I wouldn't have the audacity to still be there several months later,'' he said.
The trust has already said there will be no resignations, and Ms Percy maintains that her job is to oversee change into the way the trust records and investigates patient deaths.
Monitor said it hoped to announce the appointment of an improvement director - to oversee and scrutinise change externally - "in the next two weeks".
Throughout Connor's inquest the trust's legal fees were met by the NHS, but his family had no legal aid.
Ms Ryan said she was now considering crowdfunding to pay for a legal challenge.
A Department of Health spokesperson said work was already under way "to ensure lessons are learnt both by the trust and across the system".
Dr Paul Lelliott, deputy chief inspector of hospitals at the Care Quality Commission, said the trust had been inspected in January and the findings would be published in April.
He said: "As part of this, our inspection team assessed the trust's progress in improving how it investigates and responds to patient deaths.
"This includes considering how the trust engages with the families and carers of people who have been the subject of a 'notifiable safety incident'."