Rebecca Kandare death: Starved baby 'not registered with GP'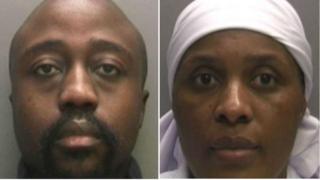 An eight-month-old baby who died of pneumonia after being starved by her parents was not registered with a GP, a report has found.
Rebecca Kandare died after her parents gave responsibility for her care to a church midwife, believing she had supernatural healing powers.
She was malnourished and had one of the worst cases of rickets seen in a UK infant, a court heard previously.
Opportunities to intervene were missed, a serious case review concluded.
Her parents, Brian Kandare, 29, and Precious Kandare, 37, of Wednesfield, were jailed for manslaughter in November.
'Set beliefs'
The report into her death, published by Wolverhampton Safeguarding Children Board, found that the child had not seen a health visitor since she was 22 days old.
When she died after being taken to hospital in January 2014, Rebecca weighed 11lb 9oz (5.24kg) - the same as an average three-month-old baby.
Read news for Birmingham, Wolverhampton and elsewhere in the West Midlands
The serious case review report found there was "increased involvement by the parents in the Gospel of God church group" which "has set beliefs about... uptake of health services".
Notification of Rebecca's birth was sent to the wrong medical surgery, which did not act on it, and the fact that "Rebecca was not formally registered with a GP was therefore missed," the report found.
It said if there had been contacts with health visiting and GP services, Rebecca's symptoms would have been noticed, which would have led to appropriate services being provided and could have prevented her death.
As the agencies had not asked about the church groups' beliefs and professionals had not asked about the the parents' views about health services, it would not have been possible to predict Rebecca's death, the report found.
'Disguised neglect'
The review published a number of recommendations, including ensuring that professionals have a better understanding of how religious beliefs can impact on a child's health and improving the way agencies work with families who are reluctant to engage with services.
All recommendations have been implemented, Wolverhampton Safeguarding said.
Board chair Alan Coe said opportunities were missed, but added: "Rebecca's parents were responsible for her death. They did everything they could to disguise their neglect of their daughter while superficially complying with health professionals in particular."
Brian and Precious Kandare admitted manslaughter at Nottingham Crown Court and were jailed for nine-and-a-half years and eight years respectively.