Condor Liberation ferry returns to service on Saturday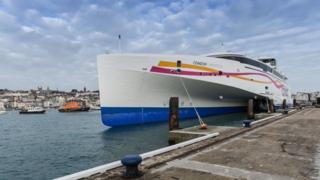 A high-speed ferry currently detained in Poole will return to service on Saturday, according to the operator.
Condor said the required repairs have been carried out on the Liberation.
Safety issues were found on the Bahamas-registered vessel by Maritime Coastguard Agency (MCA) inspectors.
In a statement from Condor it said after a re-inspection the agency said they were satisfied that all issues had been rectified.
Condor said that the boat now reaches the "highest standards of safety".
Inspectors found 11 deficiencies, with four giving grounds for detention; the main engine operation, steering gear operation, fire doors and ISM (International safety management code).
The firm's other high speed ferry, Condor Rapide, is at Falmouth in dry dock for annual maintenance.
MCA findings - Major failings
Propulsion main engine - Not as required
Steering gear - Inoperative
Fire doors/Openings in fire resisting divisions - Not as required
ISM (International safety management code)- Not as required
Other failings
Emergency Steering Position - Inoperative
Ready availability of firefighting equipment - Not Properly Stowed
Public address system - Missing
Other Safety in general - Other
Maritime Labour certificate - Invalid
Firefighting equipment and appliances - Not as required
Fire Drills - Lack of training