Surrey's flood-hit pupils take manifesto to MPs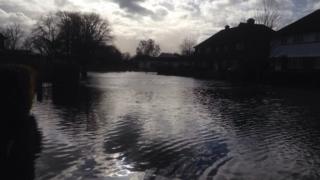 Pupils whose homes were hit by severe floods in Surrey in 2013-14 have told MPs about their experiences and taken their work to an EU project conference.
Secondary students from the Magna Carta School in Staines drew up a young people's manifesto.
They wanted clearer warnings, grants for defences, help for vulnerable people and pets, and fairer insurance.
Ten pupils presented their findings to a parliamentary group on insurance and financial services on Tuesday.
Researchers also developed a children's manifesto with children from South Ferriby Primary School in North Lincolnshire where floods also hit that year.
They also wanted better warnings, but also preparations for families and pets, having someone around to understand warnings, flood drills similar to fire drills, walks for children to help them get to know their local area and "a group to help children get happier after a flood".
A film made with both schools described their fear and anxiety as floods hit, how families were taken by surprise as water levels higher than the children themselves inundated their homes, and the experiences of dealing with sewage and loss of their possessions.
Professor Maggie Mort, who led the research team from Lancaster University and Save the Children, said: "Nobody was really engaging with children who had been flooded to try to find out what they'd been through."
She said children were often ignored in disaster-related planning, and she added: "Children notice things. They notice things perhaps that adults fail to notice."
She also said researchers discovered the youngsters were not "victims" during floods, but had been out helping their communities.
David Watkins, assistant head teacher at the Magna Carta School, said the students, who "really felt listened to" by MPs, could go on to give evidence to a select committee.
"Given the amount of devastation they saw and the hardship they went through, the students have shown huge resilience and resourcefulness to take their message all the way to parliament," he said.
The group were in Brussels on Wednesday.