'Fundamental failings' led to Secamb ambulance delays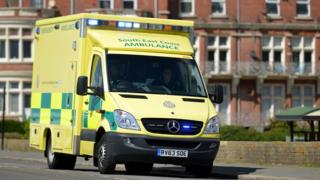 Fundamental failings in how an NHS trust was run led to a pilot scheme which delayed ambulance response times to 111 calls, a report has found.
In October it emerged that South East Coast Ambulance Service (Secamb) had delayed sending help for certain calls.
A review by Deloitte says the "high risk and sensitive" project was implemented without adequately assessing its impact on patients.
It says appraisal of the project by the trust's board was inadequate.
Assessment by NHS Commissioners and the 111 service was also found to have been inadequate.
Chairman of the scandal-hit trust, Tony Thorne, resigned on Monday following a crisis meeting of its bosses.
Chief Executive Paul Sutton is taking a leave of absence.
Mr Thorne's place will be taken by interim chair Sir Peter Dixon at the request of health regulator Monitor.
Deloitte said the pilot scheme allowed up to 10 minutes for the re-triage of some calls and up to 20 minutes for others before ambulances were despatched.
The review did not look at the impact of the pilot scheme on patients, which is the subject of a separate clinically led review due to be concluded by June.
Secamb said said it welcomed and accepted all the findings of the Deloitte review.
"It [the trust] recognises the governance surrounding the pilot was inadequate," it said in a statement.
It said it had already started to make serious changes to the way matters of governance are managed and dealt with.
---
How call handling was changed
Secamb provides NHS 111 services across the region and responds to 999 calls.
Some 111 calls were transferred to the 999 system to give Secamb more time for more urgent calls.
The calls affected were in the second most serious category - Category A Red 2 - which covers conditions like strokes or fits but which are less critical than where people are non responsive.
Under NHS rules, calls designated as life-threatening are supposed to receive an ambulance response within eight minutes.
The trust allowed itself an extra 10 minutes to deal with some calls by "re-triaging" patients in the 999 system.
The pilot scheme allowed an extra 20 minutes for another category of Green calls.
---