South Yorkshire Police branded 'incompetent' over CSE data error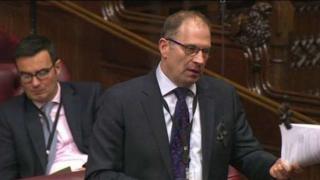 The force at the centre of the Rotherham abuse scandal has been branded "incompetent" after it released incorrect figures on its own work.
South Yorkshire Police said a "clerical error" meant it gave the BBC the wrong data on charges brought for child sexual exploitation (CSE) offences.
It put out a correction on the day Lib Dem Lord Scriven raised the issue in the House of Lords.
The force said it acted "as soon as the error came to light".
'Ridiculous excuse'
In its earlier response, South Yorkshire Police said it had charged one person for every 16 CSE complaints, compared to an average across nine other forces of one in five.
But, the revised figures said, of 681 CSE complaints, the force had charged 177 people and summonsed a further 22 to court - making an average of one charge for every 3.4 complaints between January 2013 and January 2015.
Lord Scriven said: "I find it all rather strange that on the day they know I am to ask a question in the House, they find a clerical error.
"If you take the weak and ridiculous excuse of human error on the original figures, the low conviction figures along with the reports so far done on South Yorkshire Police on CSE, incompetence is the most charitable word you could use for their lamentable progress so far.
"This footwork over figures by South Yorkshire Police just reinforces my view they are incompetent and the Chief Constable needs to go."
The force did not dispute separate Crown Prosecution Service (CPS) figures which showed child abuse prosecutions in South Yorkshire were a fraction of those brought by police in London, Greater Manchester, the West Midlands, Thames Valley and Hampshire.
The Jay report of August 2014 previously revealed at least 1,400 children were subjected to appalling sexual exploitation in Rotherham between 1997 and 2013.
It revealed "blatant" collective failures by the council's leadership, senior managers had "underplayed" the scale of the problem and South Yorkshire Police had failed to prioritise the issue.
Police watchdog Her Majesty's Inspectorate of Constabulary found in July the force still needed to make "major improvements" to some child protection procedures.
South Yorkshire Police said tackling CSE was a "priority" and it was committed to building on its progress.
"We have a dedicated multi-agency team established in each district, which focus on CSE to prevent offences, to protect vulnerable children, and to hold offenders to account," said the force.