Councillor James Buckley cleared over Sadiq Khan corner shop tweet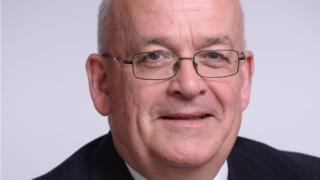 A councillor who sent a tweet comparing a London mayoral candidate's office to a corner shop has been cleared of sending an offensive message.
James Buckley, who sits on Rugby Borough Council, made the comments about Labour MP Sadiq Khan's constituency office.
Leamington Spa Magistrates' Court agreed the tweet was "very stupid" but not "grossly offensive".
Mr Buckley denied the message had a racially abusive undertone.
'Stupidly funny'
More on this story and updates from Coventry & Warwickshire
Magistrates heard the 61-year-old had tweeted: "Your next London Mayor? You think his corner shop would be open on a Saturday?", last November.
He told the court he was trying to compare Mr Khan's "slightly run down" office on Balham High Road, Tooting, with the "plush" offices of the current mayor of London Boris Johnson.
He said: "I just did it trying to be stupidly funny, disastrously."
The tweet was deleted 10 minutes after it was first sent, defence solicitor Mohammed Farooq told the court on Friday.
Mr Buckley said there was no racially abusive undertone to his tweet and that written to Mr Khan to apologise.
Magistrate Irene Stark said: "We all agree it was a very stupid thing to do and you admitted this yourself by deleting it.
"We do not believe that this was grossly offensive."
Mr Buckley was suspended from his local Conservative group after the tweet was posted and is now an independent councillor for Hillmorton.