Speeding biker Gavin Collett admits dangerous driving at 100mph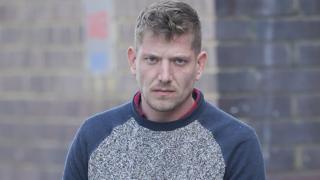 A motorcyclist has pleaded guilty to a series of driving offences after riding through Sussex at speeds of more than 100mph and crashing twice.
Gavin Collett, of Bramber Road, Broadwater, was seen speeding on the A24 before crashing at a junction with the A27 on Thursday.
Police said he continued riding without a helmet around Brighton before crashing at Churchill Square car park.
Officers said it was too dangerous to pursue him without risk to others.
He was followed by a police helicopter but fled on foot. His motorbike, helmet and leather jacket were later recovered.
Officers appealed to anyone who knew of his whereabouts to get in touch urgently.
Collett was arrested in Portsmouth on Sunday.
The 32-year-old admitted two counts of failing to stop at the scene of a crash, dangerous driving, driving while disqualified and having no insurance.
He was remanded in custody by Crawley magistrates and will be sentenced at Lewes Crown Court on 12 April.