Victim in apology to Carey over abuse-claim Bishop George Bell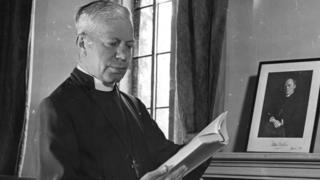 A woman, who the Church of England has accepted was abused by a bishop, has apologised to the family of a former Archbishop of Canterbury.
The victim, known as Carol, claimed she had written to Lord Carey, telling him that she had been abused as a child by Bishop George Bell.
In a statement issued by her solicitor, she accepted that was an error.
"Carol has issued a private apology to the Careys for the genuine mistake she made in good faith," it said.
The statement continued: "She first made complaints in 1995 to Bishop Kemp of Chichester.
"She was prompted to complain again to Lambeth Palace at the time of the Jimmy Savile revelations, but it was only in 2013 when she wrote again - this time to Archbishop Justin Welby - that the matter was referred to the police."
Following an investigation, the Church of England said it believed Carol had been abused, and issued a public apology.
However in an open letter to a national newspaper, Lord Carey said he was "appalled" at the way the authorities had treated the memory of Bishop Bell.
The Rt Rev George Bell was Bishop of Chichester from 1929 until his death in October 1958.