Stuart Pearce makes Longford AFC debut as sub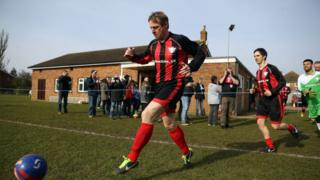 Football legend Stuart Pearce has come out of retirement to make his debut for "the worst team in the UK".
Longford AFC manager Nick Dawe introduced his star signing as a second half substitute against Wotton Rovers.
Pearce, 53, signed up to play one game for the team, who lost 0-1 after conceding a penalty.
The former Nottingham Forest defender won 78 England caps before hanging up his boots as a player 14 years ago.
Before the game, he said: "I'm woefully short of fitness but I'll give it my best."
Longford AFC's biggest defeats
2015-16 season
216
goals conceded so far
0-17 at home to Bibury

16-0 away at Lydney Town Reserves

0-15 at home to Quedgeley Warriors

14-0 away at Woolaston
PA
Longford AFC are rooted to the bottom of the Gloucestershire Northern Senior League Division Two having lost all its games this season and conceding 216 goals along the way. They have only netted eight goals.
The team's heaviest defeats include a 0-17 game at home to Bibury, 16-0 away at Lydney Town Reserves and 0-15 at home to Quedgeley Wanderers.
However, since Pearce signed up for the team in January, club treasurer Mike Dean said "games haven't been as bad" and confidence is growing.
The player, nicknamed Psycho, was part of Sir Bobby Robson's squad that reached the last four of the World Cup in Italy in 1990, and the Terry Venables-led side that was eliminated at the same stage of Euro '96.
During his playing career he enjoyed spells at Newcastle United, Manchester City, West Ham, Coventry and non-league Wealdstone, as well as captaining Forest under the management of Brian Clough.