Goring Weir hydro-power scheme given go-ahead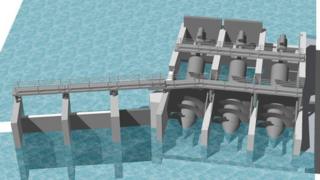 Plans for a hydro-electric scheme on Goring Weir which could power up to 300 homes have been given the go-ahead.
Goring And Streatley Community Energy Ltd want to put three Archimedes screws at Goring Lock to generate electricity.
The scheme on the Oxfordshire and Berkshire border was granted planning permission by South Oxfordshire District Council on Wednesday.
Objectors said the generators would look unsightly and could disrupt fish and their habitats.
Part of the existing weir at Goring Lock will be demolished to make way for the three 3.5m (11ft) in diameter screws.
A control room will also be built next to the existing lock house and a fish pass - a structure which allows fish to swim upstream - will be installed.
Goring Parish Council objected to the scheme over concerns the turbines could be noisy and ruin the area's natural beauty.
The Angling Trust believe the turbines could disrupt and damage aquatic life.
The group said the screws used would be "fish friendly".
The scheme is set to be funded through community shares.