Why are teen pregnancy rates in the West Midlands so high?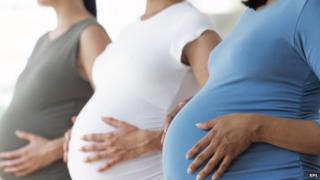 Five areas in the West Midlands are statistically among the highest in the UK for teenage pregnancy. Not a single town or city in the south of England appears at the top of the list. Why?
The Office of National Statistics named Nuneaton and Bedworth as having the highest conception rate for under 18s in the country, with 43 per every 1,000 births in 2014.
Stoke-on-Trent comes second with 42.2, and Tamworth third with 42. Sandwell and Walsall also feature in the top 10, with a rate of 38.3 and 37.5 respectively.
The national average was about 23 conceptions per 1,000 15 to 17-year-old girls in 2014; a rate that is falling across England and Wales year on year.
Yet the reason why the West Midlands fares so badly seems unclear.
The BBC approached some experts to try to explain the region's position in the table.
Simon Walker, the West Midlands sexual health lead for Public Health England, said: "It's something we will be looking at when we meet with representatives of the five areas.
"I can't see an obvious reason why - there are local government cuts taking place across the country so that's not something that could be attributed to the figures."
A lack of information in schools, inadequate support systems and problems accessing health services are all contributing factors to the rates, said Mr Walker.
"It's important to recognise that overall, each of the five areas have seen a significant drop in teenage pregnancies since 1998. But the rate is still high," said Mr Walker.
"It's always a challenge trying to work out exactly why a rise has occurred.
"The key factors we look at include the quality of sexual education in schools, and well-publicised sexual healthcare."
---
Nicola's story
Nicola Carnell, 27, became pregnant when she was 15 years old: "It was unplanned and I was horrified," she said.
"My mum was amazing but people outside were very judgmental. They were telling me my life is over and I would amount to nothing.
"Sex education in my school didn't go into great detail but I don't necessarily think it would've made a difference to me falling pregnant."
Ms Carnell started volunteering at Alice Charity, which supports teenage parents in Staffordshire.
She is now doing an accounting apprenticeship and will look after the charity's books when she qualifies.
"My advice to expectant teenage mums is don't give up on your dreams. I've turned my life around."
---
Hilary Pannack, CEO of the charity Straight Talking, believes high unemployment contributes to teenage pregnancy rates, because it "lowers aspirations for young people".
"They find it harder to get work and they tend to be more disadvantaged than the South," she said.
"Teenage pregnancy is a cause and consequence of this."
The nationwide charity, which gets teenage parents to educate children on the challenges of parenthood, is looking to extend its services in the West Midlands in light of the ONS figures.
Stoke-on-Trent is focusing on reducing teen pregnancies through education.
The recently published Reducing Under 18s Conception Strategy found: "There is strong evidence to support the view that receiving good quality relationships and sex education (RSE) helps young people to understand consent, develop healthy relationships - staying safe from coercive and exploitative ones - and delay early sex.
"Young people who report school as their main source of RSE are less likely to be pregnant before 18 and there is no evidence to support the view that RSE encourages early sex."
Ann James from Stoke-on-Trent City Council said: "The teenage conception rate in the city is the lowest it has ever been and we are committed to supporting young people to make good choices; however, we recognise that we have a lot more work to do.
"There is a strong correlation between deprivation and high rates of teenage pregnancies, and the council is doing all it can to address both these issues."
John Linnane, the director for public health for Warwickshire, said he was "deeply disappointed by the spike in the rate in Nuneaton and Bedworth".
"The long-term trend for this borough has been downward until this new set of figures.
"We will be working with all of our partners in Nuneaton and Bedworth to understand these results and identify how we can work effectively together to reverse this."
Mark Sutton, cabinet support member for social and health care at Staffordshire County Council, said: "We have worked hard to reduce the amount of teenage pregnancy in Tamworth over the past few years.
"We will continue to work with a number of different agencies in the area, and directly with young people themselves, to tackle teenage pregnancy and other related issues."