Somerset health services put on black alert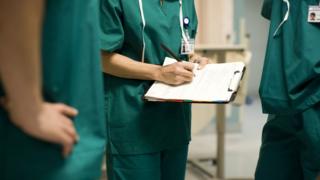 Health services in Somerset are operating under 'black alert' status due to increased levels of demand on resources.
The county's Clinical Commissioning Group (CCG) said it has been caused by winter-related high admissions of frail and elderly people.
People are being urged to only visit accident and emergency departments if absolutely necessary.
Spokesman Paul Courtney said: "There is a lot of pressure in the system."
The black alert status was implemented on Tuesday, with additional hospital beds opened in local community hospitals.
Somerset CCG was unable to say when the status will be downgraded.
What is a black alert?
•The NHS uses a national internal alert system based on the colours green, amber, red and black to rank how busy a local health and social care system is
•Black alert status occurs when a hospital cannot cope with the number of people coming into the accident and emergency department because not enough people are being discharged
•It effectively means the hospital does not have enough beds to cope