Afghanistan helicopter crash crew 'could have been naughty'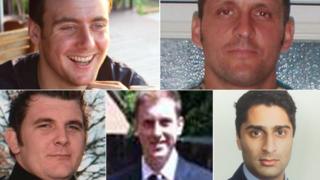 Five British servicemen who died in a helicopter crash could only have attempted to create a feeling of weightlessness if they had been "actively naughty", an inquest heard.
The Army Air Corps Lynx crashed near Kandahar airbase, Afghanistan in 2014.
A service inquiry published last year said the pilots may have been attempting to simulate the feeling of zero gravity just before impact.
Their families have denied they would carry out such a stunt.
Oxford Coroner's Court heard how voice recordings from the cockpit revealed one of the men on board saying they had a "Voyager flashback" - a reference to a previous incident in which a military plane lost height and created a feeling of weightlessness.
---
The crew
Captain Thomas Clarke, from Tiverton in Devon and born in Cardiff, was the pilot
Warrant Officer Spencer Faulkner, who lived in Burghfield Common in Berkshire, was the aircraft commander
Corporal James Walters, from Leedstown in Cornwall, was the air crewman
RAF Flight Lieutenant Rakesh Chauhan, from Cropston in Leicestershire, was an intelligence specialist
Lance Corporal Oliver Thomas, from Brecon in Powys, was an army reservist
---
Questioning senior flying instructor Major David Sams, counsel for the Faulkner family Michael Rawlinson, said: "It would be difficult to induce 'a bit of floaty' when you're [starting the descent], wouldn't it? You'd have to be actively naughty to induce a bit of floaty?"
Maj Sams replied: "Yes."
Responding to a question about producing negative g-force - which can cause feelings of weightlessness - he added: "I'm not convinced you'd get [it] on a descent. It is more likely on a tactical climb."
All five men on board the aircraft were killed in April 2014 after it descended 25ft (7.5m) in half a second.
Maj Sams said it would have been difficult for the crew to execute a recovery from such a low level, when travelling at speed.
A military investigation into the crash ruled out any mechanical failures or enemy action - blaming instead a series of human factors.
The inquest continues.