'Lark Ascending' piano goes on show at Leith Hill Place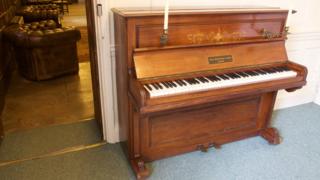 A piano used by composer Ralph Vaughan Williams to write the UK's "most popular piece of music" has been restored and put on show at his home.
The Broadwood piano has gone on display at Leith Hill Place, near Dorking, now owned by the National Trust.
The piece, The Lark Ascending, has been voted the country's favourite six times by Classic FM listeners.
Vaughan Williams said he had been inspired to write the score after sitting on cliffs near Margate.
He had been on holiday at the resort on the day Britain entered World War One and was watching ships engaged in fleet exercises.
The piano - a Honeysuckle model - was bought second-hand by the composer in 1905.
It was delivered to his home in Chelsea and later moved to his home near Dorking in 1930.
Gabrielle Gale, from the National Trust, described the instrument as a "workhorse" rather than a concert piano.
"It is quite an unassuming instrument and it sat in the composer's study where he used it daily to try out musical ideas," she said.
Vaughan Williams previously said the tune had come to him as he walked away from the cliff.
A boy scout then arrested him, suspecting him of making notes of the coastline for the enemy.
The piece for solo violin and orchestra - thought to capture the tranquillity of a pre-war England - was not performed in full until after the war.