Five-Quarter North Sea gas extraction firm collapses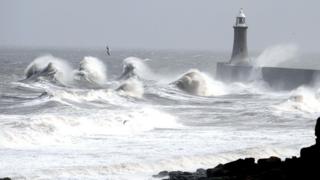 A company exploring new methods of energy production off the north-east coast of England has collapsed.
Five-Quarter Energy had government licences to extract shale gas from coal deposits under the North Sea.
The project, expected to create hundreds of jobs, qualified for a £15m Regional Growth Fund grant and infrastructure guarantee worth £1.1bn from the treasury.
The company says financial difficulties had forced it to cease trading.
Efforts to secure foreign funding had failed, it said.
In a statement, the company said: "This is because global market conditions have changed, North Sea activities are in rapid decline, and there is considerable uncertainty about the direction of government strategy for energy."
'Vast deposits'
The government could not be persuaded to support its negotiations for foreign investment, Five-Quarter said.
Middlesbrough Labour MP Andy McDonald criticised the government for failing to back the development of "strategically important" coal gasification.
But the government said the technology had not been proven as a viable energy source.
The company previously said there were "vast deposits" - about two billion tonnes of coal - off the North East coast.
It intended to drill narrow boreholes up to 2km (1.2 miles) below the sea bed and send down steam to release gas from the rocks.
It believed it could make the process carbon-neutral and generate other chemicals and gases useful to the region's industry.
But last year thousands of people signed a petition against this "deep gas winning" method of off-shore gas extraction.
Campaigners claimed the method is "experimental", "dangerous" and a threat to coastlines.