West Midlands firefighters to refuse overtime in pay dispute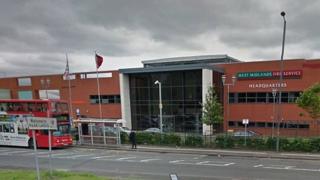 Firefighters in the West Midlands have voted for industrial action in a dispute about overtime pay.
The Fire Brigades Union (FBU) said members will refuse to do overtime from 3 March, until bosses agree to pay them time and a half.
West Midlands Fire Service is offering its staff a flat rate salary for working extra hours.
Chief Fire Officer Phil Loach said he was "disappointed" at the action, saying it will put the public at risk.
The FBU claims that overtime shifts are increasingly needed to cover staff shortages following the loss of more than 200 firefighters since 2010.
'Increase risk'
Andrew Scattergood, FBU brigade chair in the West Midlands, said the rate of time and a half was a national benchmark, and that paying less would stop firefighters providing much-needed cover.
"This new salary system will mean scores of fire engines being left out of action at any one time because the service simply doesn't have the manpower to staff them," he said.
"We don't want to take industrial action but we cannot simply stand by and watch our life-saving service, that the public rely on, turn to a threadbare and fragmented mess."
Mr Loach said the pay scale was in response to government cuts of £10m to the service.
"We will assess the impact of this action and use our contingency plans to ensure that the community still receives the best emergency service we can provide," he said.
"However, we are disappointed that, despite over 18 months of continued discussions with the FBU, they have now chosen to take this course of action and increase risk to the communities of the West Midlands."