North Sea whale deaths: Definitive answer months away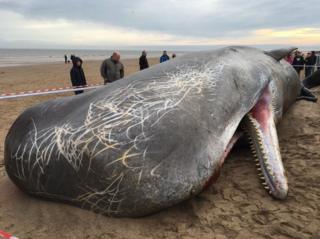 Scientists investigating the mass stranding of sperm whales in the North Sea have said it could be many months before they determine the cause of the deaths.
Six whales died after washing up on the east coast of England around Skegness and Hunstanton.
More than 20 others were found beached in France, Germany and the Netherlands.
The whales became stranded after swimming into the shallow waters of the North Sea.
Theories being put forward include pollution, increased noise levels, and competition for food and females.
Rob Deaville, from the UK Cetacean Strandings Investigation Programme, said: "This is all theory - no-one really knows for sure.
"We know how they died, what we don't know is when or why they entered the North Sea."
Whale campaigner Dr Jeffrey Ventre said one possible cause was an increase in noise levels.
He said increased noise can cause haemorrhaging in the brain, affecting the whales' ability to navigate.
"That to me seems the most logical explanation for why you have these different animals washing up in a relatively short period of time in a relatively concentrated area."
Industrial pollution found in the sea is another suggestion.
In 2012, a pod of long-finned pilot whales were found to have high levels of mercury in their blood after becoming stranded in Scotland.
Dr Eva Krupp, from Aberdeen University, said: "These animals have learned to cope with the mercury and with other toxic elements.
"However, we know levels are higher now, and it may be they are reaching the concentrations where they cannot detoxify sufficiently anymore."
Boat-strike or entanglement, which is a common cause of strandings, have been ruled out.