'Regrets' and 'reservations' in Referendum run-up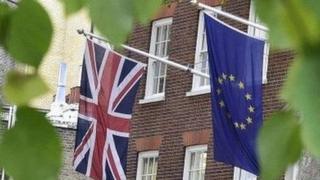 Why MPs are all "heart"
I have never heard the word used so often by assorted Conservative MPs.
Stratford-upon-Avon MP Nadhim Zahawi, one of David Cameron's closest advisers on apprenticeships, told us it was "with a heavy heart" that he would back the Leave campaign.
On the other hand, Sajid Javid, Business Secretary, Bromsgrove MP and often a fierce critic of the EU, said he would vote to remain in: so very much head over heart for him.
Ludlow's Conservative MP, Defence Minister Philip Dunne went out of his way to emphasise his "reservations" when he came out, ever so tentatively, in support of remaining.
Time again expressions like "heart-rending" and "heart-searching" hinted at the Tories' inner anguish, whether or not they intended to support the Prime Minister's determination to campaign to remain: "heart and soul" of course!
They may have a Commons majority but the split on this defining issue, 'licensed' though it may be, has been laid bare for all to see.
Red cards and emergency brakes
So far the debate has been dominated by that much-vaunted renegotiated "deal" giving national parliaments new powers to "red card" unwanted EU regulation and a so-called "emergency brake" on European migrants' in-work benefits.
But from out here in the real world beyond the "Westminster village" comes a series of reminders that some of the time-honoured controversies surrounding our EU membership have never gone away. This Referendum will be about much more than just the "hot button issue" of the week.
In Coventry market, a stallholder stands behind his colourful display of fresh fruit bemoaning EU food regulations which he considers unduly restrictive.
From high up in the Staffordshire Moorlands come the fears of hill farmer Jackie Langford-Mycock as to what life might hold for her outside Europe's Common Agricultural Policy: it's not just the preserve of those French farmers after all.
But when I put her point to Gisela Stuart MP, Birmingham Edgbaston, one of just three Midlands Labour MPs campaigning to Leave the EU, she replied quite simply that this was our "once in a generation opportunity".
It's the single argument which in her opinion clearly outweighs all others.
Standing alongside her was Conservative MP for Stourbridge, Margot James. She had been alone among our Midlands MPs in declaring her intention to Remain in the EU even before Mr Cameron's renegotiated deal was done. Her all-important concern is that local businesses must continue to enjoy "unrestricted access" to Europe's single market of half a billion people.
And that's also top of the list for Coventry billionaire businessman Sir Peter Rigby who has thrown his weight behind the "Britain Stronger in Europe" campaign. Leaving it, he told us would cause "chaos".
Even business leaders disagree on that one, though.
Back to Nadhim Zahawi again. As founder and chief executive of the polling organisation YouGov in his former life before politics, Stratford's Conservative MP is no mean entrepreneur himself. He tells us that if we leave the EU we create "an increasingly agile pro-business country".
Sunday Politics Midlands, BBC One
Plenty of talking points for this week's Sunday Politics Midlands. Joining me in the studio will be Karen Bradley, the Home Office Minister and Conservative MP for Staffordshire Moorlands and Jack Dromey, the Shadow Police Minister and Labour MP for Birmingham Erdington.
"Remainers" both they may be. But we will also be joined by one of the business leaders heading-up the campaign to Leave the EU:
the top Birmingham accountant Saqib Bhatti is a prominent member of "Business for Britain".
And I hope you can join us too.
That's 'Sunday Politics Midlands from 11.00 on BBC One this Sunday 28 February 2016.