Man guilty of Georgina Edmonds murder after fresh DNA clues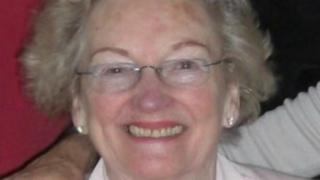 A man has been found guilty of beating a pensioner to death with a marble rolling pin, four years after being cleared of the same crime.
Georgina Edmonds, 77, was found dead at her home near Eastleigh, Hampshire, in January 2008.
Matthew Hamlen 36, tortured the widow for her debit card Pin codes.
He was initially cleared of the murder in 2012. Under new double jeopardy legislation, he was convicted following a review of DNA evidence.
The jury of three women and nine men at Winchester Crown Court returned a unanimous verdict.
Hamlen, from Bishopstoke, showed no emotion as the verdict was read out, the sound of crying could be heard from the public gallery.
He will be sentenced on Wednesday.
Read more: The detective who never gave up hope of catching a killer
The widow, who lived alone, was found in her country cottage by her son, bludgeoned and stabbed to death, on 11 January 2008.
A two-year manhunt began in 2008 with almost 2,000 DNA samples taken from local people in an attempt to identify the killer.
Double jeopardy
The prosecution claimed DNA and telephone evidence placed Hamlen at the scene, but he repeatedly denied the killing.
He had been acquitted of the murder in January 2012, but the removal of the legal principle of double jeopardy in the 2003 Criminal Justice Act meant he could be put on trial for the same crime.
The Court of Appeal ruled a new DNA sample found on Mrs Edmonds' blouse represented "new and compelling" evidence and quashed the original verdict.
Following the verdict, the judge, Mr Justice Saunders, said he was very grateful to the jury for the trouble they have taken to try this "distressing extremely difficult case"
He said: "It is an experience that will live with you for the rest of your lives."
The judge said he would exempt each jury member, if they wished, from jury service for next ten years.
After the hearing, Mrs Edmonds' son Harry, who discovered her body, said: "Matthew Hamlen stabbed my mother 37 times and then beat her to death with a marble rolling pin.
"The death penalty is no longer a sentencing option for judges in this country and, in my view, it is a matter of great regret that we can no longer execute the loathsome individuals who commit crimes of this magnitude."
'Exhibit five'
Mr Edmonds' thanked Hampshire Constabulary, in particular Det Insp Martin Chudley, the crime scene manager responsible for securing the vital DNA evidence.
He said: "Without Martin's inspired forensic leadership, the vital DNA evidence - exhibit five - would probably not have been obtained. This was vital evidence which led to the Appeal Court hearing and the overturning of the original not-guilty verdict."
A Hampshire Constabulary spokesman said: "Throughout this entire investigation we have been absolutely determined to prove, beyond doubt, who committed this horrific crime.
"I would like to praise Georgina's family who have trusted us to find her killer since those tragic events on January 11, 2008.
"Hamlen has never admitted his guilt, which has forced her son, Harry, her daughter, Doddie, and her wider family and friends to sit through two Crown Court trials and hear the traumatic details of that day, over and over again. They have all been incredibly strong."
---
Georgina Edmonds Murder Investigation
11 January 2008 - Georgina Edmonds found dead by her son Harry. A man, wearing a fluorescent jacket, was seen using a cash machine few miles away at 2238 GMT that night.
19 November 2008 - Reconstruction and appeal for information broadcast on BBC Crimewatch
January 2010 - Police reveal they have a DNA profile of the killer and believe he has connections to Eastleigh
10 March 2010 - Police begin taking voluntary DNA samples from people in Eastleigh
30 June 2010 - Matthew Hamlen arrested over the murder
14 November 2011 - Matthew Hamlen goes on trial charged with murder at Winchester Crown Court
20 January 2012 - Matthew Hamlen acquitted by jury
October 2012 - August 2013 - Hampshire police review forensic evidence and decide they have new DNA proof of Hamlen's guilt
23 September 2014 - Director of Public Prosecutions authorises Hampshire Constabulary to reinvestigate
21 October 2014 - Matthew Hamlen arrested and charged with Georgina Edmonds' murder
13 May 2015 - Appeal Court in London rules fresh evidence was new and compelling and quashed the 2012 acquittal.
13 January 2016 - Retrial begins at Winchester Crown Court
23 February 2016 - Matthew Hamlen found guilty of murder
---